Discover more from The Integralist
A strong voice for a metamodern ethos, integral philosophy, developmental wisdom, and evolutionary spirituality.
An Integral Response to the 2020 U.S. Presidential Election
My Case for Rejecting President Donald J. Trump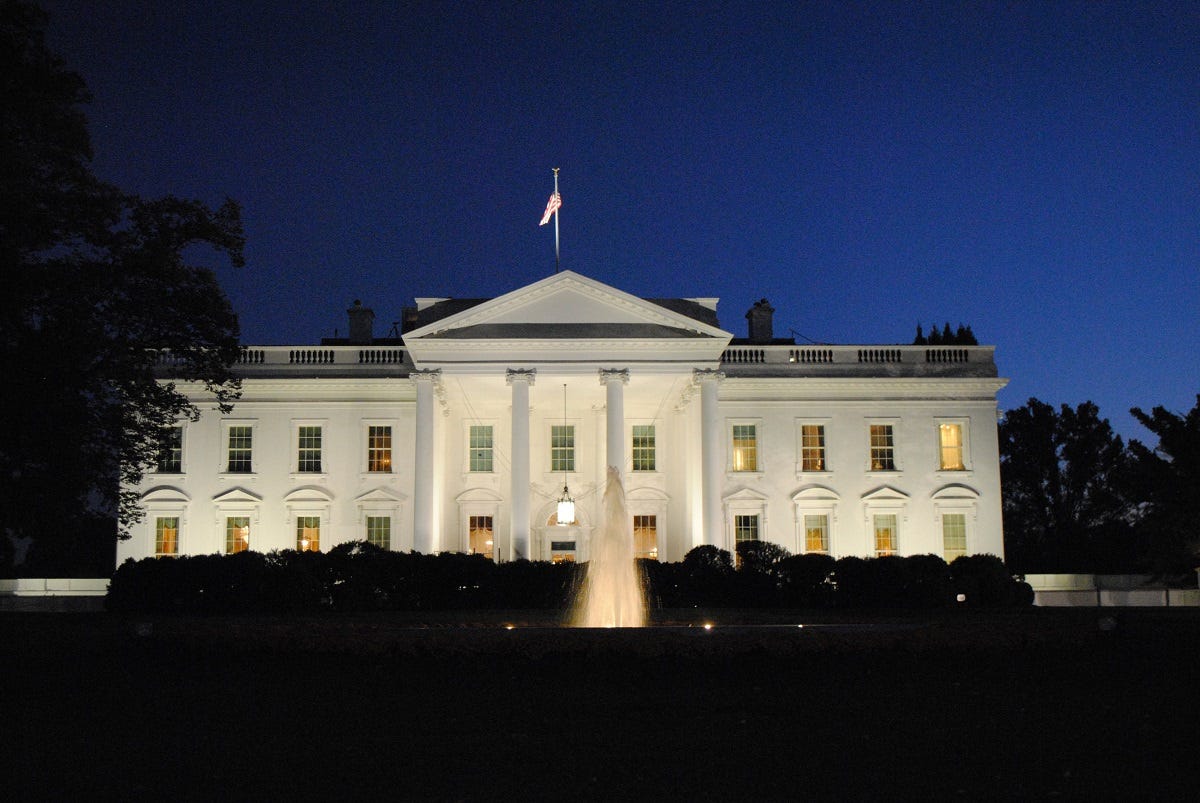 (Photo: Tabrez Syed via Unsplash)
The Integral philosophy has enormous implications for politics, but not in a simplistic way of pointing to specific governmental structures, political parties, or politicians to support. Instead, it provides insights and methodologies useful for checking on the validity or completeness of other political philosophies. For this reason, you can expect that there is no one "orthodox" response to the 2020 US presidential election, and no one correct way of voting.
It is sometimes even said that Integral philosophy is merely a "meta-" picture of world affairs and is itself "content-free" about how it forms opinions. While I think this is the wrong way to put it, I readily agree that Integralists ought to be careful about announcing that their own preferred political approach is the only correct way of enacting views with "meta-aware" complexity.
Truly, Integralists are not merely empty vessels capable of processing political opinions with equanimity. We are active players in politics, as in all realms of life. We are actors in a play of partiality, owning our biases and preferences even as we seek to creatively include viewpoints that make us uncomfortable.
The goal isn't 50/50 balance, but even-handed wisdom and transforming a broken world to greater wholeness. Politics is a sort of lending our own individual realizations of wholeness to the communities we inhabit. Integralists have our own partisan and ideological tendencies, but we also seek to step into the frameworks of other persons so that we can learn from them and perhaps try to make them better.
Now let me make clear my own stance in partiality, put succinctly.
I believe that Donald Trump is the worst president in U.S. history and the most dangerous leader in the world. I believe he is horrifically unfit and incompetent to lead. He is an abusive spouse, a mad king, and a despotic tin-cup tyrant.
I also believe that there are basically FOUR important issues that are of dominant importance for today's world:
ONE, the global climate crisis, along with ecosystem loss and enormous species extinction;

TWO, the global (and US) income inequality and wealth disparity crisis;

THREE, the threat to democracy posed by right-wing autocracies (including Trump's own threat to the US system); and

FOUR, the crisis concerning the lack of world governance and human consciousness structures that are capable of finding solutions to enormously complex problems affecting the entire planet.
On some of these crises, I do not know where the candidates stand exactly because no one has asked them the right questions. But I have taken educated guesses.
On all FOUR of these issues, Trump is, as he would say, a total disaster, the most horrible in history, unlike anything anyone has ever seen before, sad!
On all FOUR of these issues (and others), Joe Biden is preferable, though he is not always a great choice. At least, he is a bridge to the possibility of a better future.
If You Are Still Unpersuaded to Reject Trump…
There is something that puzzles me as an Integralist. I have asked myself: could Integralists disagree after considering the facts in "all levels" (e.g., traditional, modern, postmodern, integral)? Could Integralists accurately assess Trump and Biden themselves at radically different "levels" of ego-maturity or cognition and yet support the man with the lower level of maturity?
In my estimation, fewer than 1 in 10 Integralists who have made their views known in our social media forums support Trump. So apparently, the answer is yes. How is it that there are fellow Integralists or Evolutionaries or Metamodernists who have such sharply contrasting viewpoints? So now let us speak to these Integralists for a moment.
Some Integral Trumpists have tried to explain their views, but I have yet to read a single Integralist's argument for supporting Trump that was convincing. Honestly, I have even found that there were profound misunderstandings not only of politics but of Integral philosophy. But let us proceed in good faith.
Beyond the four issues already noted, there are additional reasons that I believe make it virtually impossible for Integralists to support Trump's re-election.
Simply put, Donald Trump is not a well man. So far as I know, he has never had a real psychological evaluation (something, which, by the way, should be as commonly performed for US presidents as physical exams). But independent experts with impeccable credentials have told us that (a) they have enough information, based on Trump's enormous public profile, to make an assessment, and (b) he is seriously mentally ill.
Specifically, Trump has been assessed as a pathological narcissist bordering on sociopathy. He is said to be totally devoid of human empathy and a pathological liar. Even his own niece, a psychologist, has confirmed these assessments based on her close knowledge of Trump's family dynamics over a lifetime of observation.
What's more, given Trump's 22,000+ lies and deceptions since he assumed the presidency, it is very well-established that his inability to tell the truth constitutes a mental health issue reaching crisis proportions. When the president for all US citizens speaks lies at a rate approaching 50 per day, this is a disgusting and dangerous example for others, one that is degrading the moral fabric of our nation and even our ability to function as a democracy.
Trump's personal morality is of concern in other ways: his admitted and degrading – and criminal – behavior towards women, the dozen accusations of sexual assault, the vanity, the racism and emboldening white supremacists, the xenophobia, and more. Tom Nichols, a conservative and Republican put it well:
Trump is the most morally defective human being ever to hold the office of the presidency, worse by every measure than any of the rascals, satyrs or racists who have sat in the Oval Office. This is vastly more important than marginal tax rates or federal judges.
There is also the matter of Trump's physical health making him a poor match for a role as demanding as the presidency. He is known to have morbid obesity and to be in recovery from COVID (which can have long-term effects on the heart, brain, and other organs). The risks to brain health include early onset dementia and even psychosis-like effects.
Trump has repeatedly shown many peculiar symptoms (slurred speech, unsteadiness, etc.) and may have a mystery illness. Trump's refusal of transparency raises serious questions of competency. While other presidents have served in office while having serious health problems, that was in a different era. In modern times, one should want for higher standards for physical competency.
The Mind of Trump
Respected Integralists who have informally weighed in on Trump's overall developmental level have all said that he is either at a center of gravity of red (egocentric), amber (ethnocentric), or orange (achiever-oriented). Probably his psychograph would show evidence of all three of these, but I would say he seems to me like he is firmly arrested at red (in other words, the maturity of a bratty child), one who is expert at fitting into amber and orange worldspaces through lies and pretending to be more accomplished and talented than he really is. His supposed nationalism and patriotism, for instance, is little more than a sick joke, a con job he does to win the votes of others. His business sense is more that of a Mafia boss than a typical corporate executive.
And then there is Trump's apparent low IQ. He refuses to release his college transcripts, and no wonder. Linguists tell us that he uses language at grade school level. He thinks at grade school level too (it isn't a rhetorical strategy). Trump's niece has said that he is known to have paid someone to take his SATs. He thinks in conspiracy theories and mocks scientists. He ignores his White House briefings and gets his news from tabloid TV and Twitter.
I am saying all this not to pick on him (that poor man!), or because of so-called Trump Derangement Syndrome, but because his inability to handle cognitively complex operations should be a disqualifier for anyone aspiring to world leadership in our day. This is true from an Integral perspective, and should be true from any well-formed perspective.
No one should vote to elect a person with such serious mental and physical defects as Trump has, regardless of any other concerns they may have, policy or otherwise. Trump would never be hired by a corporation for a critical executive role given these shortcomings, and he simply does not even come close to meeting the bar for re-employment.
By any measure, Trump just isn't a good person.
And a nation which elevates a bad man as its leader, well … one doesn't have to be a Confucian to see that that nation deserves the calamities that will surely follow.
Some will say with good justification that Trump is not only a bad man, but a very evil man, one of the worst world leaders the planet has ever seen. They will point to his record of aiding genocide, his nuclear footsie with North Korea, his forfeiting the world's best chance at averting catastrophic climate change, his inaction leading to tens of thousands of needless deaths from a pandemic, his stoking a potential second U.S. civil war, his demolishing America's democratic institutions and standing in the world, and even his recent responsibility for 700 deaths of his rally attendees. They have some good points. Perhaps Trump is truly evil.
I have briefly noted the FOUR big issues in our day and then expanded on Trump's individual failings for those who were not yet convinced, but there are many other issues that I haven't discussed: the pros and cons of deregulation, health care reform, infrastructure spending, deficit spending versus economic stimulus, the merits of lockdowns versus herd immunity in responding to Covid-19, immigration reform, racial inequities, LGBTQ and women's rights, and the problem of wokeness on college campuses and elsewhere. I tend to agree with liberals on some of these issues and agree with conservatives on some others, but that's not so important. Trump is already so far disqualified on the grounds on which I have spoken that we may ignore all the rest.
I hope you will vote for Joe Biden on Tuesday if you have not already done so. Biden is a good and decent man who is well-qualified to begin to repair the damage done by an abominable president, and he deserves to be given the chance to do so. I say this as an Integralist whose judgment in these matters has been informed by the values and perspectives of my own philosophy, and I hope other Integralists especially will consider what I have to say.