Foundations of an Integral Spirituality
Encountering All-That-Is in Emptiness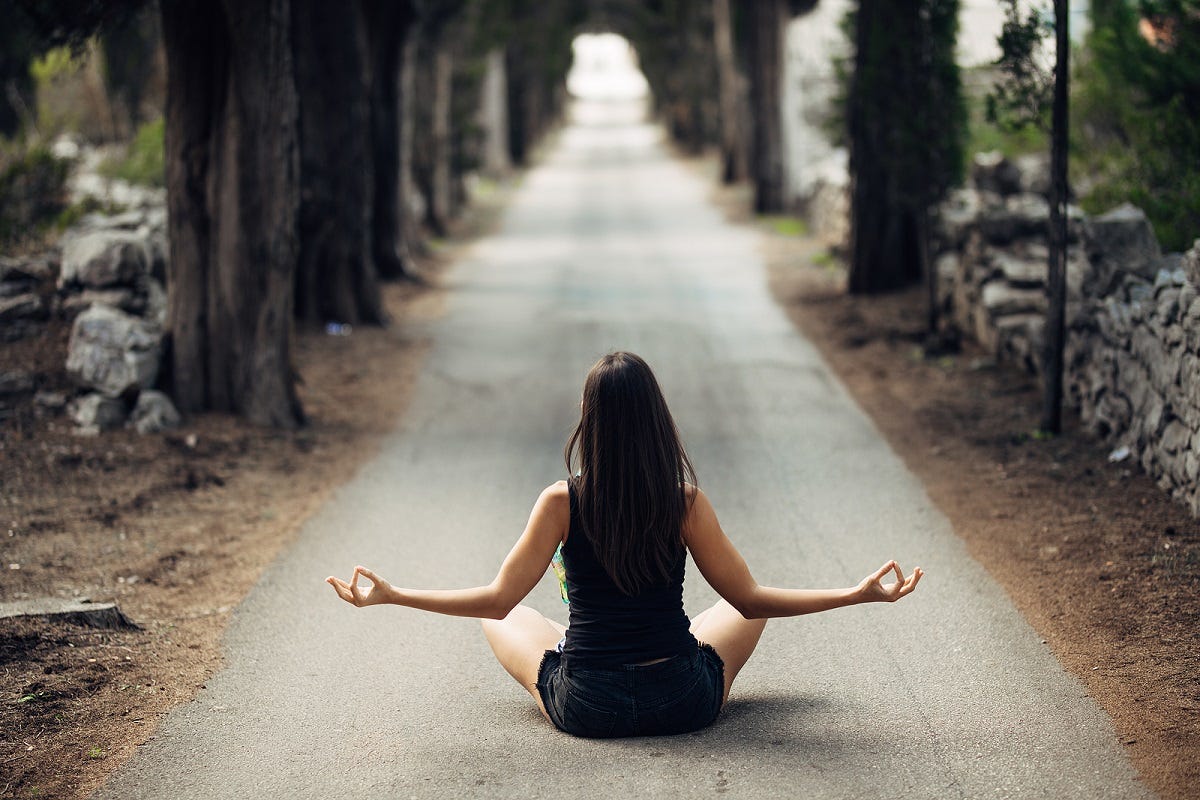 (Photo: Eldar Nurkovic via BigStock.com)
Spirituality is how we relate to all things. It is how we find an Alpha and Omega in all things, being and becoming within a field of uncertainty and expectation. It is how we arrive at a good point-of-view that is useful for living our complex lives, address pain and suffering, and wrestle with the mystery of death.
Most people are confused about these things, sad to say. They go through life focused on making ends meet, thinking fantastically about how everything works, believing in unevidenced stories that have been handed down to them, losing themselves in pursuits of money and status, or absorbing themselves in "spiritualized" political struggles.
All these confusions contain fragments of a spirituality more whole and complete. Within the struggle to survive, there is an encounter with the Root; within magical performances, there Is an encounter with Nature and the birth of the Magus; within storytelling, there is an encounter with the Logos; within the striving for personal excellence, there is an encounter with the God-Person or Divinity; within politics conflated with absolute ideals, there is an encounter with Gaia and the Liberator.
So, thinking about the different common types of spirituality may take us to simpler principles or archetypes that capture their essence. I have just been talking about Root, Nature, Magus, Logos, God-Person, Divinity, Gaia, Liberator; these are just a few of the many names useful for gathering fragments of the Whole into cohesion.
Religions can help us to gather fragments together, each one stressing a unique set of fragments that separately give us specific, irreducibly unique approaches to the Whole. Irreligiousness can also gather fragments together, e.g., by using science to forge a worldview characterized by empirical evidence and rational analysis.
An Integral Approach to Spirit
When we are talking about Integral spirituality, there are many forms to consider. Some Integralists prioritize one religious tradition over others, e.g., articulating an Integral Buddhism or an Integral Christianity. Other Integralists eschew religion for raw training in the lineages of realized and enlightened gurus. Still others call themselves atheists or pantheists, seeking fulfillment of their human longings in nature and secular pursuits.
Perhaps most Integralists walk a translineage or interspiritual path (like Wayne Teasdale's) to some degree, borrowing ideas and practices that come from two or more of the above approaches. This is my own preference, personally. As I've related in my spiritual memoir, I was baptized and raised Roman Catholic but have since expanded my vision over the years. I remain connected to my roots while developing my faith with insights from Islam and Kabbalah, and other insights from indigenous cultures and the East.
How is it that many thousands of Integralists take such divergent approaches to religion and spirituality while still having enough in common to think of themselves as part of the Integral community?
I say that they have usually accepted certain primal distinctions, elemental principles, or orienting generalizations that give them a relatively sure map through the maze of different philosophical or religious heritages. When you understand that there are common developmental pathways (e.g., those spotted by James Fowler's stages of faith or the color-coded value memes of Spiral Dynamics or the colorized altitudes of Ken Wilber), you gain a sort of common language for walking your path. You also may cease to identify with merely "traditional values" (blue/amber), "modern liberal faith" (orange), or "postmodern progressive spirituality" (green).  You want a useful way to integrate the warring religious systems to find peace within your own past stages of development and present struggles.
Here's the essence of it, from my perspective. The Integral approach to Spirit is to learn to speak a "common language" so that you have the freedom to choose to relate to various spiritual heritages stemming from magical, mythic, modern, and postmodern origins without losing yourself in their traps and deficits. You can correct for the problems within your religious inheritance (and yes, there are always issues). Basically, you OUTGROW what you need to leave behind (e.g., shame, ethnocentrism, and materialism) and DEEPEN what you need more of (e.g., moral education, community, and mysticism).  
On Emptiness in Integral Thought
If the essence of Integral spirituality is the use of a lingua franca for conceiving and speaking of how we relate to all things, what is the vocabulary and grammar of this language, and how is this language learned?
Often Integral thinkers speak of reality in terms of one or two primordial distinctions: e.g., emptiness and form, Spirit, God and Creation, Ascent and Descent, All-That-Is, Eros and Agape, infinite and finite, fullness and freedom, or Tao. At other times, we speak of three or four important distinctions. These original distinctions are sometimes the building blocks for making more complex distinctions later; for example, the Spiral Dynamics value memes are influenced by the distinction between agency (yang) and communion (yin).
Today, let's start by briefly learning one of the most important words in Integral thought: Emptiness. There will be time to talk more about other key terms of Integral-speak later.
Integralists who come from a Buddhist heritage (and just about everyone else, too) import the important principle of Emptiness into the Integral lexicon. Ken Wilber writes in A Brief History of Everything:
Q: Emptiness has two meanings?

KW: Yes, which can be very confusing. On the one hand, as we just saw, it is a discrete, identifiable state of awareness—namely, unmanifest absorption or cessation (nirvikalpa samadi, ayn, jnana samadhi, nirodh, classical nirvana). This is the causal state, a discrete state.

The second meaning is that Emptiness is not merely a particular state among others, but rather the reality of suchness or condition of all states. Not a particular state apart from other states, but the reality or condition of all states, high or low, sacred or profane, ordinary or extraordinary.
If I read this passage as merely a set of fancy words on a page, the words remain ghosts. So long as I remain in an ordinary state of consciousness, I find myself as a separate being characterized mainly by bodily sensations, feelings, and thought processes, and many perceptions of sight and sound. But the practice of meditation – perhaps not enough to generate samadhi, but just enough to create cessation of these thoughts and sensations – allows me to encounter emptiness as an action of unfolding a new causal awareness.
You can examine your own experiences with meditation to relate to what I've just spoken from my own experience. This is true of many key terms of Integral spirituality: they can be immediately encountered as empirical qualities already present in your awareness if you look for them in the right way. Stillness illuminates, silence sets you on an isle of sense, and muteness negates mutability. In a manner of speaking, Integral-speak is not a foreign tongue but a new way of speaking about things you didn't realize you already knew.
Back to looking at Emptiness. When I stop meditating and return, say, to writing a book, I am ever so slightly changed. Silence is now not merely an empty sound but an unchanging aspect of my being or identity, and it is not merely my-self but a quality of all things.
Listening to the lingering silence, the world seems different – as Simon and Garfunkel famously sang, I can hear:
And in the naked light I saw
Ten thousand people, maybe more
People talking without speaking
People hearing without listening
People writing songs that voices never share
And no one dared
Disturb the sound of silence
Listening to silence is not inert; it has enormous power to dare and transform. When you have been meditating consistently for a period you may find your ordinary awareness changed. You can think of that change as a slide into what Wilber calls "the reality of suchness or condition of all states".
This is important. Too many people today have been taught to only look at meditation as a secular relaxation technique. It is that, and more. Integralists know meditation as an injunction which (properly informed by philosophy) is a gateway to an encounter with fundamental realities and truths about yourself, and really, the nature of being human.
Emptiness is a primordial concept in Integral thought, not exactly part of the duality of nothingness and being, but useful for characterizing the quality of All-That-Is or God (conceived panentheistically, which we'll talk about another day). Not empty of content, but empty of distinctions.
This is not to say that Emptiness and God are the same thing; this is to say that Emptiness and God each point to overlapping aspects of the same, most primordial reality. Both Emptiness and God (or Spirit) provide the basis for valuable perspectives on reality, and therefore they are both essential foundations for Integral spirituality. They help to define how we relate to all things because they point to their suchness.