Who is the God of the Integralists?
Spirit is Everything, Nothing is Separate from God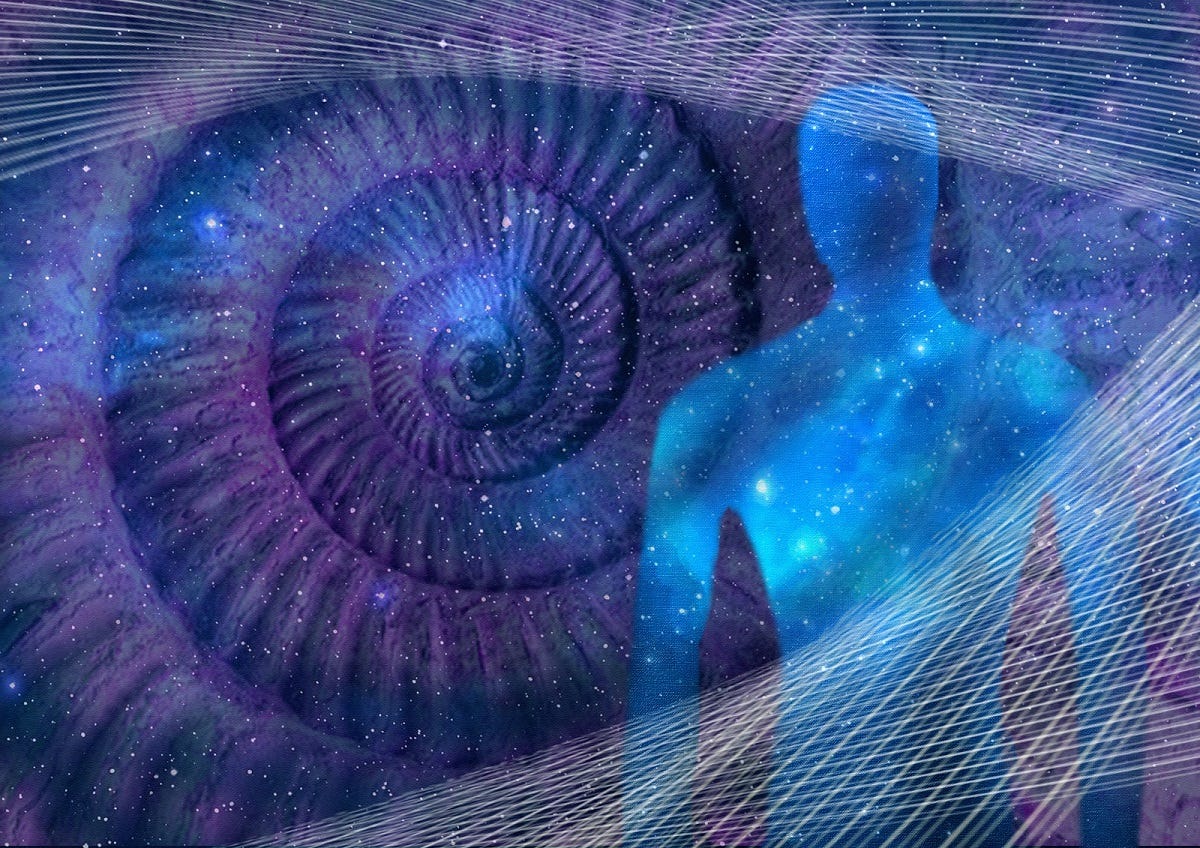 (Photo: liyavihola via BigStock.com)
I imagine that most Integralists probably have roughly similar ideas about God, and a valued place in our lives for God or Goddess or Allah or Spirit, by whatever name. One might also say, if one has belief, that God gives us a valued place in God's world, and God reveals God's self to us in its essential nature through evolving ways.
The Roman Catholic theologian Teilhard de Chardin, one of the major influencers of the Integral worldview, says in Hymn of the Universe:
So, far from light emerging gradually out of the womb of our darkness, it is the Light, existing before all else was made which, patiently, surely, eliminates our darkness. As for us creatures, of ourselves we are but emptiness and obscurity. But you, my God, are the inmost depths, the stability of that eternal milieu, without duration or space, in which our cosmos emerges gradually into being and grows gradually to its final completeness, as it loses those boundaries which to our eyes seem so immense. Everything is being; everywhere there is being and nothing but being, save in the fragmentation of creatures and the clash of their atoms.
In a similar observation, the Indian philosopher Sri Aurobindo wrote:
In the spiritual experience, we see God as the supreme Self or Spirit, or as the Being from whom we come and in whom we live and move. We see Nature as his Power or God as Power, Spirit in Power acting in ourselves and the world.
These renowned thinkers are suggesting that God or Self or Spirit is everywhere, from the farthest reaches of the cosmos to the most interior depths of the human heart. Where did Integralists come by this idea?
I would guess that significantly fewer than half of Integralists are regular churchgoers or active members of any formal religious community. Therefore, most of us have derived our understanding of God from a variety of loosely-defined places, including the "canon" of popular Ken Wilber books and Integral community trainings and the "tradition" of evolutionary spiritual thinkers from generations past (e.g., de Chardin and Aurobindo).
Beyond de Chardin and Aurobindo, other Integralists share some roughly similar ideas about the way things are in the grand scheme of things, but they do not use terminology with a religious-sounding origin. Some call themselves atheists or agnostics. They prefer to use terms such as Universe or Kosmos or Nature or All-That-Is or Sprit to speak of how we relate to all things. Also, they prefer to use terms like "I AMness" or Self to refer to the spiritual perception of all things with an emphasis on the inner being.
The Divine Spirit
Spirit, you may have noticed, is a term used by both religious and irreligious Integralists, so it is very useful for speaking to the entire community. I feel that it invokes the Holy Spirit of Christian faith to my ears (which suits me), but it also resonates with a variety of other perspectives from German Idealism to New Age to scientific panpsychism.
Perhaps most people who are comfortable describing their relationship to all things as a walk with Spirit would probably feel comfortable describing themselves as panentheistic. According to the Stanford Encyclopedia of Philosophy, panentheism "considers God and the world to be inter-related with the world being in God and God being in the world."
How these two faces of God are related is a matter of ongoing discussion among Integralists. For one view, the Integral/Metamodern thinker Layman Pascal says:
The God who is in the world (as participation in the dynamic interdependent co-arising) supercedes the God who supercedes the world.
Don't confuse panentheism, which is belief in a transcendent reality and nature, with pantheism, which believes that all that exists is only nature, and God is nothing but nature. Why is this important? Partly, because a lot of Integralists prefer inclusion to exclusion. While the cosmos and its mysterious forces inspire many sublime feelings, few of us would say that they point to nothing beyond themselves, and we want to include everything (after all, evolution is all about bringing in a transcendent future).
One perspective that is rare among Integralists is that of atheistic scientific materialism, which is widely understood as a reductive philosophy that has no worthy view of science's limits. Basically, we generally believe that we live in a world that we actively participate in, and the boundaries between the world "out there" and the world "in here" are ultimately illusory.
There are a few folks among us of a strong secular bent who express themselves much like scientific materialists do, but even they are usually forced to reject the materialistic doctrine along with (hopefully) the smug, arrogant stance of many modern scientific writers. Although few Integralists think that Integralism and militant atheism are compatible, many Integralists enjoyed the writings of the New Atheists when they were popular because they enjoy good spirited debates.
And then let's not forget about the Metamodernists like "Hanzi Freinacht" who believe that the more evolved you become, the more secular you get. You might not be surprised to learn that Hanzi's Metamodernism seems to be foremost a European phenomenon, which might explain their worship of secularism and their lack of serious interest in religion or spirituality as anything but an obsolete artifact.
If you ask me, it's simply not true that a person's evolution in worldview necessarily produces increasing secularization, though I suppose it depends on how terms like "secular" and "spiritual" and "religious" are defined. My opinion is that evolution produces more sophisticated, more inclusive, and more comprehensive consciousness, which may be interpreted in secular or spiritual or religious ways (with the advantage going to spiritualists or religionists with well-formed outlooks, because these views are nearly always less reductionist).
The Six Major Levels of God
One thing just about all Integralists can agree upon is that evolution in one's view of God is real. There are all sorts of complexities, caveats, and nuances that ought to be spelled out, but today let's just keep it short and sweet.
Ken Wilber once wrote pointedly in a BeliefNet column:
Put bluntly, there is an archaic God, a magic God, a mythic God, a mental God, and an integral God. Which God do you believe in?
Let us imagine a hypothetical person who has a spiritual journey along 6 major stations similar to the 5 mentioned by Wilber (who is simplifying 100+ different models of human development). I'll call this person "Joe" or "Joey" because some details come from my own life experience.
IMPORTANT: The following short descriptions suggest just one possible way of passing through these stages. Your mileage will vary, but you can probably recognize some of these stages in your own story.
Level 0: Archaic
Baby Joey's ability to see God is very different than ours because it is totally dominated by his survival needs. These needs appear as instinctual forces, e.g., drives for food, water, comfort, bonding, and safety. In a manner of speaking, these drives themselves are divinities. When Joey's hunger demands food or pain demands comfort, these forces dominate his entire world.
The baby sees God in raw impulses and basic emotions. Worship of the archaic God is the satisfaction of drives and relief from fear. Faith is the cry of a needy infant, hoping for survival. Theology is inchoate primordial sensing.
Level 1: Magic
Little Joey, seated on his high-chair throne, sees God in his own ego and its ability to change a world of supernatural beings. He recognizes the divine power of relationships because the trusted bonds of family and ancestors are essential for living. His sense of right and wrong are not yet well developed, so he tends to obey his superiors without thinking about it. Rituals and traditions connect Joey to God because they generate miracles or ask God for intervention.
The magic God is the one where belonging to the tribe or clan is a source of power and magic. This God is known through belief in fairy-tales (e.g., sunshine is God's smile and the rain is God's tears). Faith is joining in the rite of passage that bonds people together in a community. Theology is feeling and folklore.
Level 2: Mythic
Joey is now old enough to receive instruction in prayers, listen to stories about Jesus Christ, and even serve as an altar boy in church services. God is a lot like his parents, but visible nowhere on Earth. God is in heaven, the place that people speak of when they look up into the blue sky. And you want very much to go to heaven when you die, because it is the reward for behaving according to God's rules and moral teachings while you live, and much better than the hell that awaits sinners.
The child sees God mainly through the prism of stories about the divine. These stories give his life purpose, order, and steadiness. The mythic God is known by accepting guidance from a Higher Power other than one's self, gaining membership in a supportive community, and atoning for the guilt caused by one's immoral actions. Faith is enacted through communal acts of honoring and sacrifice. Theology is defending the source of ultimate authority for the community.
Level 3: Mental
Now in his college years, Joe has been educated by studying many modern thinkers. His religiosity has been challenged by historicist criticism of the Bible, the history of dogma, scientific theories, and the history of philosophy. God is a figure embattled with modernity, one who is constantly denied, attacked, and demythologized. Although Joe is no longer able to easily affirm the God of his religious upbringing, he nevertheless finds God as the infinite in the finite, the unconditioned in the conditioned, and the ground of being.
The mental God is the object of rational theorizing and philosophical debate, a new role for God that allows Joe to feel greater autonomy and independence. His mental concept of God as a ground of being gives him a way of combining a scientific, materialist understanding of the way the world works with a logical approach to religion. Faith is the optimism that bestows Joe with confidence in the progress of democracy over authority, science over superstition, and technology over backwardness. Theology is a way of thinking about God by thinking about human nature and destiny.
Level 4: Pluralistic
As Joe continues his studies into graduate school, he grows increasingly disenchanted with modernity. Although he maintains the same essential view of religion as problematic, he now begins to look down on rationality itself along with its truth-claims. Just as he once saw the manufactured nature of religious dogma as an impediment to faith, now he sees the history of science as full of arbitrary paradigm shifts, culturally relative claims, and oppressive power grabs. Joe begins to seek out marginalized experiences within his own life experience and that of the pluralistic multitude of suffering beings, and thereby come to a more sensitive, caring, and compassionate relationship to all things.
The pluralistic God is the divine presence in the lived experience and perspectives of the poor, oppressed, and marginalized persons. This praxis of God gives Joe a postmodern philosophy suitable for escaping the narrow worldview of materialistic, capitalistic, nature-raping modernity to find salvation in interdependence, consensus, respect for feelings, and working for the common good. Faith is finding God through the gospel of multiculturalism and wokeness. The cutting edge of thought is neo-Marxist, feminist, and liberation theology.
Level 5: Integral
Amidst a life complete with breathtaking highs and devastating lows, Joe arrives at a new order of meta-awareness, an opening to the wholeness of reality. He usually speaks of this totality as Spirit or Universe or Spiral of Existence, one that is not separate from the world, but the all-pervading force of evolution itself within self, culture, and nature. His temperament is warmly accepting of people from all stations of life and he strives to find ways to serve the ongoing well-being and development of others. He sees Spirit as a transpersonal force that embraces all of his past spiritual outlooks, enjoining the pluralistic God, enfolding the mental God, embracing the mythic God, incorporating the magic God, and adding the archaic God.
The integral God is the one that develops through a whole spectrum, including and transcending a variety of prior processes, but without excluding any of them. As God emerges in this post-postmodern consciousness, God appears as one who can relate flexibly to individuals at all different stations of life, overcoming irreducible pluralism in favor of pluralism-within-unity. Faith is growing in consciousness along with a struggle against unconsciousness. Theology is seeking to understand the ineffable and the manifest co-arising in the Spirit of Evolution.
And the Spiral of Existence continues to unfold…